Lexan Computer & Server overlays are a fast, easy, and affordable way to private label any enclosure, housing, or panel.  We now offer them in Vinyl too!
Lexan Computer & Server overlays give you unlimited possibilities compared to screen printing.  Our overlays can be applied to any metal, plastic, painted, and even powder coated surfaces.  Our close tolerance cutting capabilities will provide you with the most professional looking enclosure.  We use a 3mil velvet textured Lexan over a 7 mil plastic with either 2 mils or 5 mils of 3M adhesive on the back.  These polycarbonate Lexan sheets give you a permanent, highly scratch resistant protective overlay.
About Lexan
Lexan is a registered trademark for SABIC Innovative Plastics' (formerly General Electric Plastics) brand of polycarbonate resin thermoplastic. Lexan is the brand name for polycarbonate sheet and resin in a wide range of grades. Applications are mainly in three domains–building (glazing and domes), industry (machine protection and fabricated parts) and communication and signage. Common usages include space and sports helmets, clear high performance windshields and aircraft canopies, and bullet resistant windows.
We use a velvet textured Lexan on our Asset Tags for scratch resistance. You can scratch the surface with a knife and still scan a barcode underneath. Our Lexan Overlays generally have a 3 mil coating of Lexan over a 7 mil plastic, but Lexan is available in several thicknesses, depending on the application. Most asset tags have a .003″ Lexan overlaminate for protection.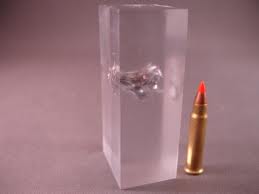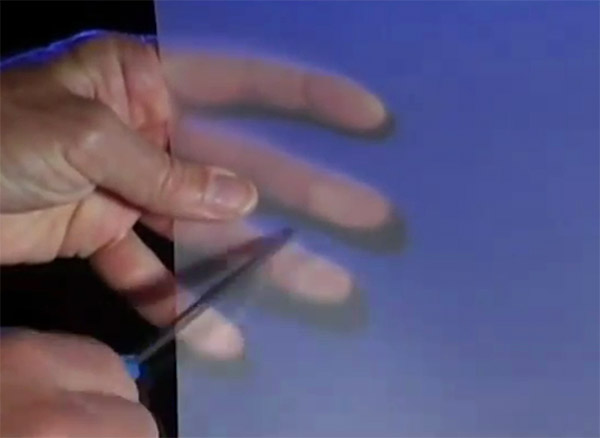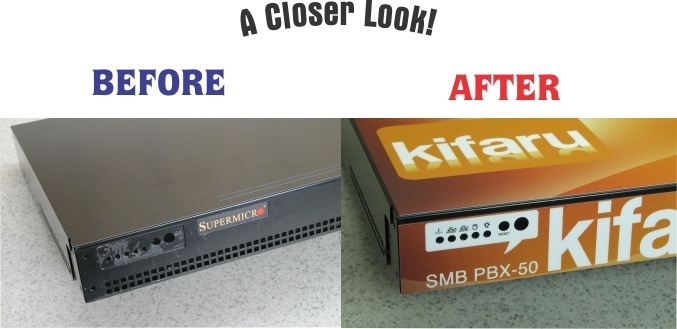 This "Before" photo shows a plain black raisin-textured powder coated panel. In the past, the only way to add a logo, port identification, instructions, or part numbers was to screen print directly on the powder coated surface. This limited you to color options, and was very expensive.

This "After" photo shows a velvet textured Lexan overlay applied directly over the powder coated surface.  Notice that the overlay has been cut to accommodate the cutouts in the original panel, and the screw holes have been concealed under the overlay. The velvet texture on the overlay looks very similar to the original raisin-texture of the panel.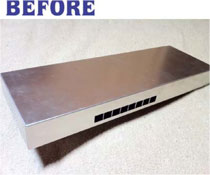 This "Before" photo shows a plain unpainted aluminum housing.  This panel would ordinarily require painting or plating before screen-printing.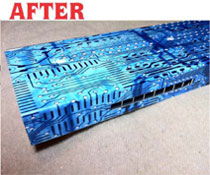 The "After" photo shows the unlimited color possibilities with our Lexan overlays.  The cutouts in the overlay perfectly match the cutouts in the housing.  We print very high resolution full color photographic quality images on our overlays, and there is no additional charge for additional colors.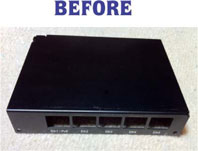 The "Before" photo shows an enclosure that has been black anodized and screen printed.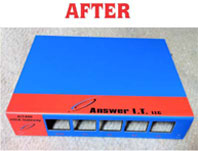 The "After" photo shows our Lexan overlay that has been applied to the enclosure.