DOMED NAME PLATES & LABELS
At Name That Computer we have been producing custom Domed Name Plates, Domed Badges, Domed Tags and Domed Labels for the Computer, Industrial and Electronics Industries for years.
Domed Name Plates and Domed Labels will give your equipment that "value added" look and therefore we produce our Domed Name Plates using the highest quality Epoxy Resin that will last for years indoors or out.  All Name Plates and Labels can be produced on gloss white plastic, gloss clear plastic or metalized polyester with doming.
Alternatively, you can order the same Name Plates with an aluminum backing (Rigid gauge .020 Aluminum or flexible gauge .007 Aluminum) and doming. We'll color match your logo and provide you with a proof prior to printing.
CALL US FOR A QUOTE or please fill out our Custom Quote Form to get a custom quote emailed to you. 
MINIMUM QUANTITIES MAY APPLY
AUTOMOTIVE NAME PLATES






COMPUTER AND INDUSTRIAL NAME PLATES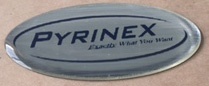 ELECTRONICS ( AUDIO/VIDEO) NAME PLATES