Void labels are a type of security label that is used to indicate tampering or evidence of unauthorized access. They are typically made from polyester or vinyl and can come in different colors, shapes, and sizes.
Void labels are ideal for any company, big or small. You can choose from several types of void labels depending on your needs. Here are some of the most popular types of void labels:
Traditional Labels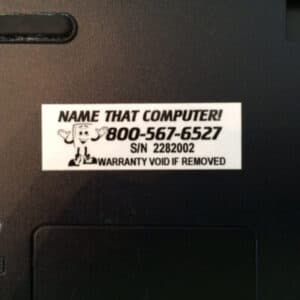 These are the most common types of void labels. They usually have a thin layer of adhesive on one side, allowing them to be easily affixed to a surface. Once removed, the tag reveals a pre-printed "VOID" message that cannot be changed or replaced.
Traditional labels are great for preventing access to sensitive information or documents. They are also commonly used on packaging to indicate tampering and can help prove the authenticity of products. At Name That Computer, we provide black and silver VOID stickers. We also have blue and red security seals that are residue-free when removed.
Destructible Labels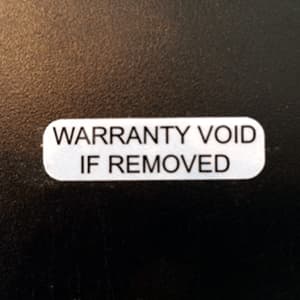 These are designed to be easily destroyed once they have been tampered with. They are normally made from special types of paper or vinyl that become brittle and fall apart when exposed to force. Destructible labels are perfect for products that must be monitored closely and securely.
The warranty void stickers that can be destroyed upon removal do not leave any residue. However, it's important to note that removing the stickers may void the product's warranty. Nevertheless, there is a way to remove any residue left behind.
Circular Holographic Product Labels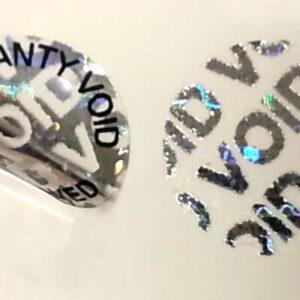 Holographic product labels are designed with a circular design and are used as security labels on products. Their unique shape easily recognizes them and can deter potential thieves. Holographic product labels are also used to indicate that the product has been opened and inspected.
If you remove holographic security seals, they will leave a significant amount of residue. Additionally, removing these seals will void the product warranty.
Need Custom Void Labels For Your Business?
Void labels are an effective way to provide security and proof of tampering with products. They come in various shapes, sizes, and styles to suit your needs. Destructible and holographic labels are ideal for companies needing close product monitoring, while traditional are ideal for businesses needing to protect confidential documents or information.
If you're looking for custom void labels for your business, Name That Computer has you covered. We offer high-quality security labels, tamper-proof stickers, and destructible warranty labels to protect your assets from manipulation and damage. Get in touch with us today to learn more!