The county that we are located in is growing by leaps and bounds, primarily because of the great school district, the fantastic weather and close proximity to the ocean.  The school district is also one of our customers for asset tags.  When we first started printing tags for them, the purchasing agent told us that "the kids peel the tags off of the equipment".  Our suggestion to him was to order rounded corners (harder for the kids to get their fingernails under and prevents "flagging") and to use the "permanent adhesive" which is our 3M*- 5 mil adhesive.  We also recommended the premium tags which have a poly carbonate protective layer on top.  Polycarbonate is more commonly known as Lexan* which is the same material that bullet-proof glass is made from. (By the way, it's not really glass, it's plastic).   Because they were using economy type tags prior, it was easy for the kids to peel them off or deface them.  The missing tags needed to be replaced.  All they had to do was provide us with a list of numbers that were missing and we easily placed them into a database which printed out their bar-coded tags.   Needless to say, the purchasing agent was very happy to hand over this task to Name That Computer/Asset Tags for Schools.
One of our newer elementary schools has a completely electronic library.  No more books!  Just MP3 players, tablets and laptops.  Printed material was always labeled with bar coded asset tags but the electronic equipment is premium, so what better way to prevent theft and account for this pricey equipment than by applying Premium Asset Tags?
Another of our school customers ordered custom laptop skins that look like a giant asset tags- complete with a track-able bar code and number (similar to the one below).  Great idea as a theft deterrent as it would be extremely difficult to remove the permanent adhesive.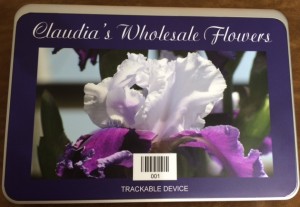 So for all your school asset tagging needs, please call us.  We'll be happy to advise  you on the best product for your application.
* Registered Trademark